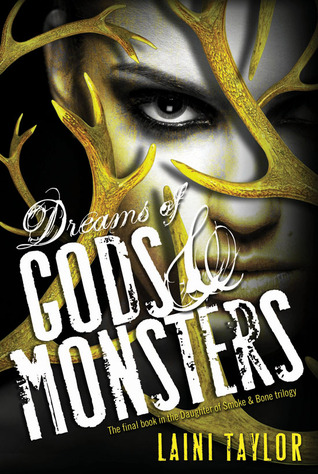 Dreams of Gods and Monsters
by Laini Taylor
Series: Daughter of Smoke & Bone #3
Published by Little, Brown & Company on April 8 2014
Genres: Young Adult, Paranormal, Fantasy
Pages: 613
Rating: 5/5 stars
By way of a staggering deception, Karou has taken control of the chimaera rebellion and is intent on steering its course away from dead-end vengeance. The future rests on her, if there can even be a future for the chimaera in war-ravaged Eretz.
Common enemy, common cause.
When Jael's brutal seraph army trespasses into the human world, the unthinkable becomes essential, and Karou and Akiva must ally their enemy armies against the threat. It is a twisted version of their long-ago dream, and they begin to hope that it might forge a way forward for their people.
And, perhaps, for themselves. Toward a new way of living, and maybe even love.




But there are bigger threats than Jael in the offing. A vicious queen is hunting Akiva, and, in the skies of Eretz ... something is happening. Massive stains are spreading like bruises from horizon to horizon; the great winged stormhunters are gathering as if summoned, ceaselessly circling, and a deep sense of wrong pervades the world.
What power can bruise the sky?
From the streets of Rome to the caves of the Kirin and beyond, humans, chimaera and seraphim will fight, strive, love, and die in an epic theater that transcends good and evil, right and wrong, friend and enemy.
At the very barriers of space and time, what do gods and monsters dream of? And does anything else matter?
The highlight of this book was not the main characters, lovely though they were. It was Liraz and Ziri. Before reading
Dreams
, I would never have believed that I'd love Liraz as much as I now do. I cried more times that I'd care to admit over Ziri's fate (both good tears and bad tears). That moment with Liraz and Ziri at the entrance to the kirin caves? Hold me while I swoon! For all the focus that is given to the romance between Karou and Akiva, I was far less invested in their relationship than I was Ziri and Liraz's.
Akiva has been my least favourite protagonist in this series since day one. I just don't connect with him, and I don't really see the attraction aside from the whole "soulmates" shtick. Not my jam. BUT Karou more than makes up for it. I love that girl so much and I'm really not even sure why. The blue hair doesn't hurt.
The dudes in this series are way weaker than the ladies. I don't mind it because they aren't bad, but they aren't as well rounded and interesting. It's pretty obvious that Laini Taylor prefers writing women (I can't blame her). Between Akiva and Mik, the main men don't do much other than stand around being attractive and supportive and occasionally broody (we all know which one I'm talking about). The villains are pretty interesting, and very infuriating. I'm pretty sure I haven't hated a character as much as Thiago since Voldemort.
A solid conclusion to a fascinating and staggeringly original story. I've never read a series quite like this. And I've read a lot. I wasn't too sure about the introduction of a new problem in the last book of the series, but it definitely lends itself to a potential spin-off, which I approve of. I want to live in this world for as long as possible. The biggest major problem I had with the plot was that I wasn't sure why the seraph had to leave Meliz in the first place. If the Stelians can keep the Beasts from entering Eretz, why wouldn't they have been able to keep them out of Meliz? I get that this wouldn't work for the plot, but it doesn't quite add up.
I also got a kick out the scene with Karou and Akiva hiding in the hotel shower at the Kasbah. All I could think of was that Virko could hear every word they were saying and was standing there trying to ignore them.
Laini Taylor is a prose wizard. Everyone should aspire to be Laini Taylor. That is all. (Actually there were a couple of bits that were a little bit lengthier than necessary, but it didn't bother me.)