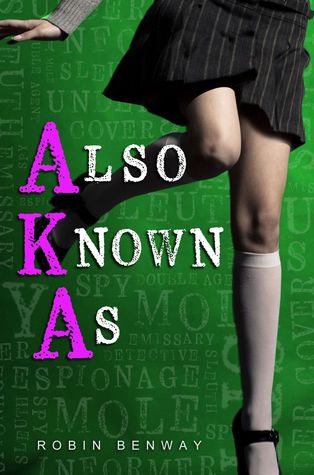 Also Known As
by Robin Benway
Published by
Walker Books for Young Readers on February 26 2013
Genres
: Young Adult, Contemporary
Which is more dangerous: being an international spy... or surviving high school?
Maggie Silver has never minded her unusual life. Cracking safes for the world's premier spy organization and traveling the world with her insanely cool parents definitely beat high school and the accompanying cliques, bad lunches, and frustratingly simple locker combinations. (If it's three digits, why bother locking it at all?)
But when Maggie and her parents are sent to New York City for her first solo assignment, her world is transformed. Suddenly, she's attending a private school with hundreds of "mean girl" wannabes, trying to avoid the temptation to hack the school's elementary security system, and working to befriend the aggravatingly cute son of a potential national security threat... all while trying not to blow her cover.
From the hilarious and poignant author of Audrey, Wait! comes a fast-paced caper that proves that even the world's greatest spies don't have a mission plan for love.
Just what I need to do – start a new series.
I was a big fan of Robin Benway's first book Audrey, Wait!, which I read in high school, and I'm all about books about teenage spies so this book was a no brainer for me. I mean, it's kind of like the Teletoon show Totally Spies, but as a book! And featuring only one teenage spy, not three! But I digress.
This book can be described with one word: cute.
It's not particularly hard hitting, or even incredibly memorable, but it was a fun read and I appreciated it for what it was. Let's be real here, I wasn't going into it looking for the next Second Chance Summer. I knew what I was signing myself up for with this book, and it didn't disappoint.
Benway somehow manages to make the premise of the book entirely plausible. She makes everything look completely seamless. Kudos to Robin Benway for crafting not only an incredibly enjoyable book, but a book about teenage spies that nearly always makes sense. She managed to create a truly believable main character in Maggie. Sixteen year old Maggie has lived pretty much everywhere in the world (in fact, her family is not allowed within Luxembourg anymore), yet she's never gone to high school. She doesn't have any friends her own age – in fact, her only real friends are her parents and family friend and fellow spy Angelo. In the wrong hands, Maggie could be a very alienating main character. After all, I don't know anyone who can relate to her life. But what makes Maggie special is that despite her fantastic and strange life, she's a normal(ish) teenage girl. She is sometimes uncomfortable in her own skin. She's in unfamiliar territory, and that's something everyone can relate to.
The romance was incredibly sweet.
When we first meet Jesse Oliver, he isn't particularly impressive. This is mostly because we are introduced to him via a dossier, rather than in person. The first things we learn about Jesse are that he was arrested for shoplifting and that his family is incredibly wealthy. It's safe to say that I was predisposed to disliking Jesse Oliver. But was I ever wrong. He's a complete sweetie pie, and best of all there is no insta-love or love triangle to be found in this book! The romance between Maggie and Jesse is based not upon longing gazes but upon a shared sense of humour and common interests. And ice cream. Can't forget that Cherry Garcia. Hurrah!
Even more impressive that Jesse Oliver is Maggie's best friend Roux. I want need a Roux in my life. She's pretty special, though I can't quite find the words to express why or how. I suppose the best way to describe Roux would be complicated. She's incredibly lonely and fights that loneliness with a lethal combination of biting humour and expensive wine in large quantities. She was hands down my favourite part of this book.
Another thing of note in Also Known As is the presence of Maggie's parents. Maggie's mom, a computer hacker, and her dad, a linguist, are spies like Maggie. Well, I suppose that should be Maggie is a spy like her parents, but alas that is not how I chose to word it. They're pretty darn cool, but they never cross the line into being irresponsible. Sure, there's the whole indoctrinating your only daughter into your spy lifestyle thing, but that's beside the point. There is some tension between Maggie and her parents that most teenagers can relate to as they all try to adjust to their new roles – Maggie learning to act like a teenager while her parents learn how to be parents instead of friends and mentors. They have to learn how to treat Maggie like their daughter and not like a spy.
There are a lot of really great things in this book. I really enjoyed reading it, but unfortunately wasn't totally blown away. It was a fun summer read, but it didn't affect me enough to merit a higher rating. That said, I would definitely recommend this to anyone looking for something light and breezy with a super cute romance.