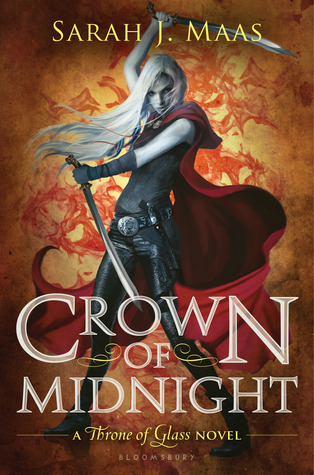 Crown of Midnight
by Sarah J. Maas
Series:
Throne of Glass #2
Published by
Bloomsbury on August 27 2013
Genres
: fantasy, young adult
From the throne of glass rules a king with a fist of iron and a soul as black as pitch. Assassin Celaena Sardothien won a brutal contest to become his Champion. Yet Celaena is far from loyal to the crown. She hides her secret vigilantly; she knows that the man she serves is bent on evil.
Keeping up the deadly charade becomes increasingly difficult when Celaena realizes she is not the only one seeking justice. As she tries to untangle the mysteries buried deep within the glass castle, her closest relationships suffer. It seems no one is above questioning her allegiances—not the Crown Prince Dorian; not Chaol, the Captain of the Guard; not even her best friend, Nehemia, a foreign princess with a rebel heart.
Then one terrible night, the secrets they have all been keeping lead to an unspeakable tragedy. As Celaena's world shatters, she will be forced to give up the very thing most precious to her and decide once and for all where her true loyalties lie...and whom she is ultimately willing to fight for.
C
rown of Midnight
excelled in almost all of the places where Throne of Glass failed, and it definitely earned the extra star. I'm so glad to have been able to read Throne of Glass and Crown of Midnight back to back, because if I hadn't had Crown of Midnight on hand right after finishing Throne of Glass, I may never have bothered to read it. That said, it was so worth reading.
As you probably know, I'm a busy university student. I'm doing a double major in English and Women's Studies, and I started this book right around the time that the fall semester (AKA the beginning of my fourth year of university) began. Let me tell you, I have had zero time for reading thus far this semester. I have managed to read all of three books in the three weeks. Over the summer, I read an average of about 2.5 books per week. Clearly, that has slowed down. The point that I'm getting at here is that amidst all of the craziness of getting back into the swing of studying nonstop, I managed to read this book in less than four days. I know that may not sound like much, but that's a big deal right now.
This book definitely raised the stakes from Throne of Glass. It was on a higher level on both a political plane and an emotional one. I'm not ashamed to admit that it made me shed a tear or two. I got a little weepy. The character development shown in Crown of Midnight surpasses anything I could ever wish for. Celaena grows tremendously over the course of the book, and you can see her thought processes changing and she slowly learns to listen to and trust the people she cares about.
I'm going to keep this review short because I simply don't know how to gush over this book without releasing all of the spoilers, but I am really impressed with Maas's progression as a writer and as a storyteller. Where Throne of Glass often lacked a certain finesse, Crown of Midnight was practically flawless in execution. It flowed wonderfully, the pacing consistent and quick-moving, and the slow unraveling of the mysteries was tantalizing in a way that was completely unmatched by the smaller scale mysteries of the first book. I'm so excited to see where this story will go in Heir of Fire (which I need to get my hands on NOW). I'd also really like to read The Assassin's Blade, though I'm typically not a fan of prequels or add-in short stories/novellas. I've heard great things about these ones, and I might just order the whole series (to date) on my next pay day.